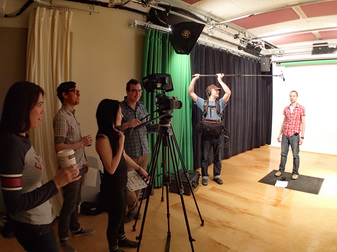 Video Production Studio
JPC Post Studios is a video production rental studio ideally suited for corporate or Youtube videos, eLearning, instructional, web and music videos as well as documentary interviews. The acoustics are tailored for optimal dialogue pickup.

Conveniently located in Toronto's west end, the studio offers 450 sq feet of versatile shooting space, that can be used for filmmaking, music videos, live events, and screenings, along with a 400sq foot "green room".
​
Our soundproofing, green screen and low cost have made us a studio of choice for smaller film and TV productions. The "shooting" end has been treated with acoustic padding for clean dry dialogue pickup. Perfect for interviews.


Green Screen
We have both a Chroma Key Green drape that wraps around the studio as well as 9 foot chromakey green seamless background paper, offering you more choice for video creativity.

Screening Room
We can easily convert to a private screening room. It's a low cost alternative to your traditional theatre and offers a private social room so that you and your guests can mingle and enjoy the night.




​

Presentations

We are also a versatile space that can easily convert to a presentation or training facility with all technical amenities (projector and big screen), meeting space for larger groups, and seminar room.
---
Studio Features:

​​

450 sq feet of shooting space
11 foot high ceiling
80 Amp lighting grid
Soundproofing (perfect for film and video shoots)
Wrap-around curtain rails for background drapes
Wrap-around green screen drape
Seamless background paper (9 and 12 foot)
10 foot wide screen and projector for screenings of up to 30 people
5.1 Surround Sound system
Free WiFi
Flipchart and whiteboard (for trainings and presentations)
VGA set-up to project computers direct on a large screen (for seminars and presentations)

Green Room Features:

Bathrooms with a shower
Kitchenette (includes small appliances)
Dressing area and large make-up counter including a reclining styling chair.
Wardrobe rack and garment steamer
A lounge including a table and a couch

---
Studio Layout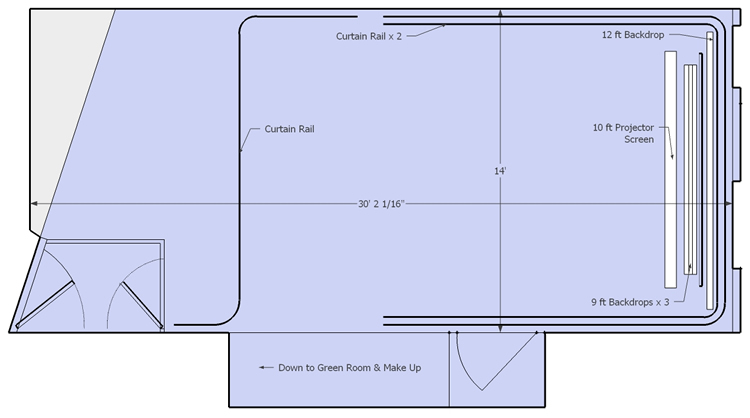 Studio Details
The shooting space allows for up to a 30 foot focal length. A double heavy duty curtain rail wraps around the shooting end and allows for the blacks or the green sceen cyc drapes to be pulled in as needed. A 12 foot and a 9 foot white seamless paper backdrop are available. A vestibule at the entrance to the studio keeps the sound out.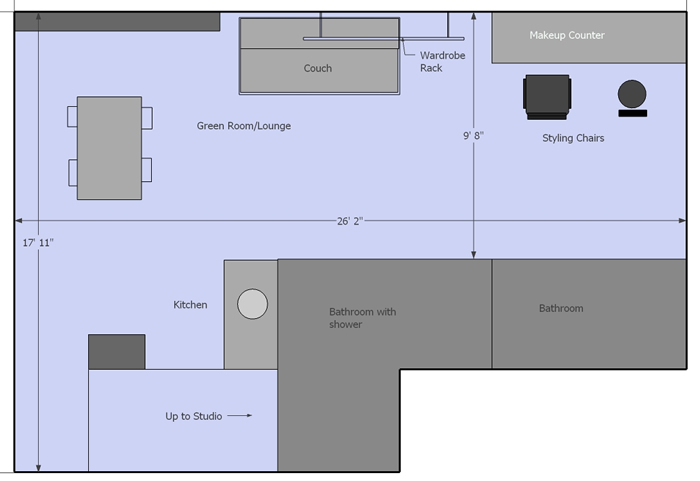 Green Room
The "Green Room" is separate oasis from the shooting space and gives your talent and "extras" a place to "chill" while keeping the "hubbub" and noise out of the way of the creative process in the studio.
It consists of the wardrobe, hair and make-up counter, bathrooms, kitchen and lounge. Hair and make-up artists will love the long 7 ft make-up counter and the height adjustable styling chair with reclining back (usefull for dramatic or prosthetic body make-up). A garment steamer is situated between the wardrobe rack and the make-up counter (not shown). For photo shoots or music videos music can be piped in from an ipod to both the studio and the Green room. The kitchenette is outfitted with a sink, mini-fridge, microwave, coffee maker, and toaster. A hotplate is available on request.

About Us
JPC Post Studio is a multifaceted video and photography studio located in the heart of Toronto's Junction District at 3083 Dundas Street West. It was designed and built by John Preketes who has 20 years of knowledge and experience in the field of technology for the arts.
​
The 850sq foot studio is equipped with green screen, 80 amp lighting grid curtain rails, drapes, seamless background paper, and soundproofing from outdoor noise all within a classic storefront setting. JPC Post Studio also has fully equipped amities such as a make-up and costume area, lounge, kitchenette and shower. It has been built with input from a number of filmmakers and photographers.